Say goodbye to the chaos in your kitchen cabinets and hello to a perfectly organized spice collection! Our Rotating Spice and Sauce Rack Organizer is designed to streamline your cooking experience. With its innovative rotating feature, you can easily access all your spices and sauces with just a spin. No more rummaging through cluttered shelves or struggling to find the right ingredient. This organizer will not only save you time but also add a touch of elegance to your kitchen decor.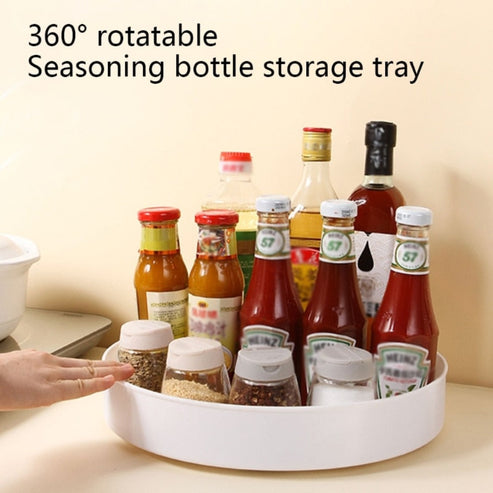 Tired of cluttered countertops and overflowing cabinets? Our Rotating Spice and Sauce Rack Organizer is here to rescue your kitchen from the mess. Its compact design allows you to maximize your storage space without sacrificing accessibility. With multiple tiers and adjustable shelves, you can customize the rack to fit your specific needs. Whether you have a small kitchen or a spacious one, this organizer will efficiently utilize every inch of your space, giving you a clutter-free and visually appealing cooking area.
We believe that functionality should never compromise style. That's why our Rotating Spice and Sauce Rack Organizer is not only practical but also visually stunning. Crafted from high-quality materials, this rack is built to last. Its sleek and modern design will seamlessly blend with any kitchen decor, adding a touch of sophistication to your culinary space. With its sturdy construction, you can trust that your spices and sauces will be securely stored and easily accessible for years to come.
Specifications:
Type: Storage Trays
Plastic Type: PC
Material: Plastic
Feature: Eco-Friendly