Keep your furry friend safe and secure with the Reflective Airtag Case Collar! Its reflective design provides nighttime visibility, giving you peace of mind when they're out and about. Perfect for cats and dogs of all sizes, this lightweight, durable collar provides reliable protection for your beloved pet!
 

Reflective Design for Nighttime Visibility

Our Reflective Airtag Case Collar is designed to keep your pet visible at night. The reflective material reflects light from car headlights, making it easier for drivers to spot your furry friend. This added visibility can help keep your pet safe and prevent accidents


Durable and Comfortable Design 

Our Reflective Airtag Case Collar is made with high-quality materials that are both durable and comfortable for your pet. The collar is designed to withstand wear and tear, making it perfect for active pets. The collar is also adjustable, ensuring a comfortable fit for your furry friend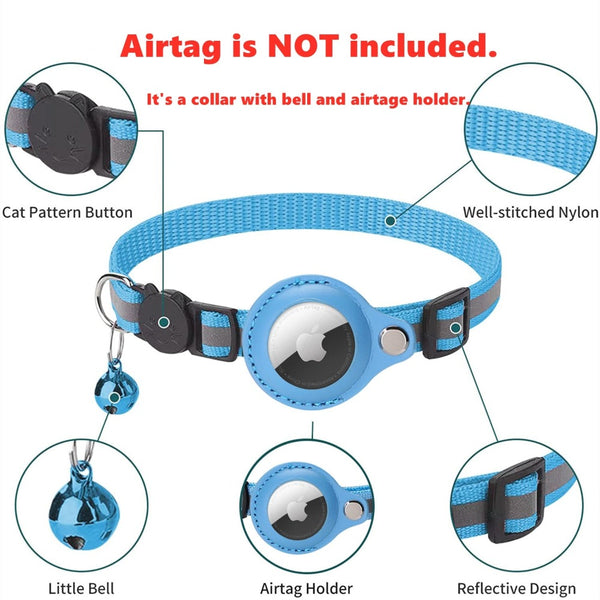 Easy to Use and Customize

Our Reflective Airtag Case Collar is easy to use and customize. The collar features a built-in Airtag case, allowing you to easily attach an Airtag to your pet's collar. The collar is also customizable, allowing you to add your pet's name or contact information for added safety


 

Features

Specially designed for AirTags location tracker.
Size: Fit pet neck 22-32 cm.
Material: nylon+reflective coating collar, PU leather airtag case.
It can protect your device from scratches, bumps, damages and so on.
Multi-colors choice to meet your needs
Order Your Reflective Airtag Case Collar Today and Keep Your Furry Friend Safe and Stylish.
*Please note that airtag tracker is NOT included.
*Collar with bell and protective case ONLY.