Say goodbye to discomfort and hello to ultimate gaming comfort with our Pink Gaming Chair with Footrest. Designed with the avid gamer in mind, this chair offers unparalleled support and relaxation, allowing you to fully immerse yourself in your gaming adventures. Whether you're battling enemies or exploring new virtual worlds, this chair will keep you comfortable and focused for hours on end.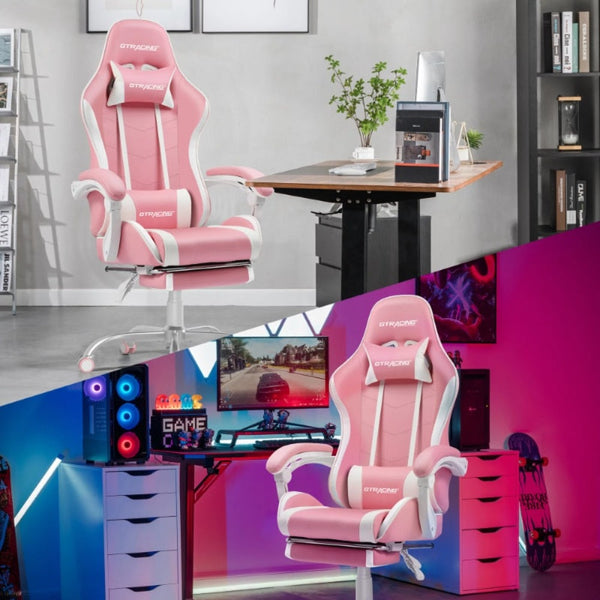 Our Pink Gaming Chair with Footrest is not just about style; it's also built for performance. The ergonomic design ensures proper posture and reduces the risk of strain or fatigue during long gaming sessions. The adjustable armrests, lumbar support, and headrest pillow provide customizable comfort, allowing you to find the perfect position for your body. With this chair, you can enhance your gaming skills without compromising your well-being.
Not only does our Pink Gaming Chair with Footrest provide exceptional comfort and performance, but it also adds a touch of style to your gaming setup. The sleek pink design with contrasting accents will make a statement in any room. Whether you're a professional gamer or a casual player, this chair is a must-have addition to your gaming arsenal. It's time to level up your gaming experience with a chair that combines both functionality and style.
Perfect for Gaming: Devoted to crafting the perfect gaming chair for professional players. Invest in us and take your game to the next level! Holds up to 290 lbs.
Ergonomic Design: Strong metal frame offers unparalleled support, helping ensure a cozy seated position. Thick padding on the back and seat, combined with a retractable footrest, bring this chair to the peak of comfort.
Multi-Function: Sit comfortably on this Pink Gaming Chair with Footrest, adjustable in height, reclinable up to 135 degrees, and rotating with a 360-degree swivel. Featuring a heavy-duty 5-point base and easy-gliding casters, as well as an included headrest pillow and lumbar cushion, and a convenient retractable footrest.
High-Quality Material: Featuring a sleek PVC leather finish, seat cushioning, and lumbar & headrest pillows for maximum comfort, this gaming chair is designed for stability and mobility with its heavy-duty base and smooth-rolling casters.
Removable support cushion: Easily adapt as your needs change for maximum comfort and satisfaction!
Retractable footrest: Effortlessly extend or retract your chair - perfect for gaming and napping!
360 Degree Rotation: Discover the ideal and snug stance with 360 degree rotation.
Reclining freely: Relax all the way to 135 degree or dial it back to 90 degree, perfect recline awaits.
Adjustable Seat Height: Achieve the utmost comfort for any size -- find the perfect sitting posture!
Specifications:

Material: Vegan Leather + Elastic Fabric
Adjustable height: ( 49.21 - 53.15)"
Back dimension: 21.26"

*measurement maybe slightly different due to measuring method