The Dragon V Bluetooth 5.3 Wireless Earbuds are an exceptional audio accessory that combines cutting-edge technology with sleek design. These earbuds offer a truly wireless experience, allowing you to enjoy your favorite music, podcasts, and calls without the hassle of tangled wires.
With the latest Bluetooth 5.3 technology, these earbuds provide a stable and seamless connection to your device, ensuring uninterrupted audio playback. The advanced chipset allows for faster pairing and improved audio quality, delivering crisp and clear sound with enhanced bass for an immersive listening experience.

Designed for comfort and convenience, the Dragon V earbuds feature an ergonomic and lightweight design that fits securely in your ears. They come with multiple sizes of ear tips to ensure a perfect fit for everyone. Whether you're working out, commuting, or simply relaxing, these earbuds stay in place and provide hours of comfortable wear.

Equipped with touch controls, these earbuds offer easy and intuitive operation. You can effortlessly play/pause music, adjust volume, answer/end calls, and even access voice assistants with just a tap or swipe on the earbuds. The built-in microphone ensures crystal-clear call quality, allowing you to have hands-free conversations on the go.

The Dragon V earbuds also boast an impressive battery life, providing up to5 hours of continuous playback on a single charge. The included charging case extends the battery life up to20 hours, ensuring that your earbuds are always ready to go. The case itself can be conveniently charged via USB-C or wirelessly with a compatible charging pad.

In addition to their performance, these earbuds are also designed to withstand the elements. With an IPX7 water-resistant rating, they can handle sweat, rain, and even accidental submersion, making them an ideal companion for workouts and outdoor activities.

Overall, the Dragon V Bluetooth 5.3 Wireless Earbuds offer a seamless and immersive audio experience, combining advanced technology, comfort, and durability. Whether you're a music enthusiast or someone who needs reliable earbuds for everyday use, these earbuds are sure to exceed your expectations.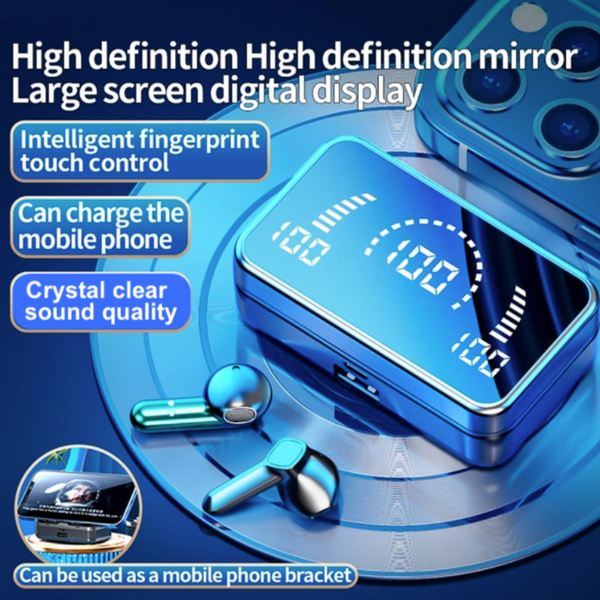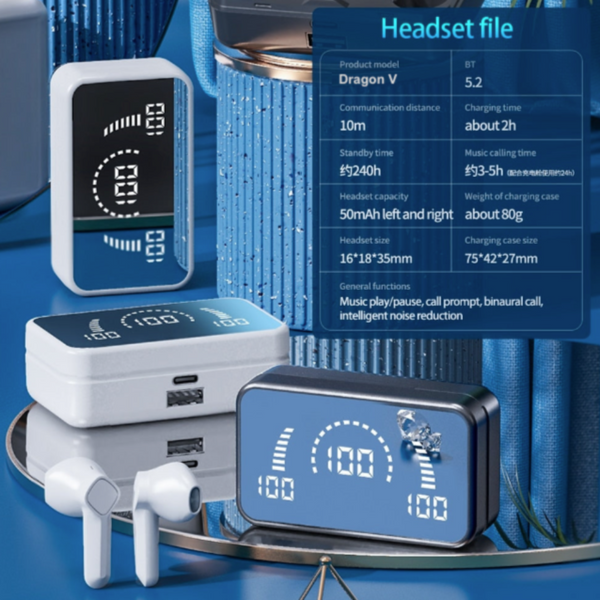 Product specifications
Model: Dragon V
Bluetooth version: V5.3
Single headphone capacity: 50mAh.
Betty charging box: 2200mAh.
Working time: 3~5 hours.
Standby time: 240 / h for one ear (Use with charging box).
Charging time: About 1.5 hours.
Waterproof: IPX5 waterproof
Noise reduction version: CVC8.0
Sensitivity: 106dB SPL ± 3dB
Wireless distance: 10m.
Product weight: 170g
Product size: 2.9" x 1.6" x 1" (charging box), 0.6*0.7 * 1.3" (headphones)
Packing List
1 * Bluetooth headset
1 * Charging cable
1 * Charging box
1 * User manual