The Dragon 2.4Ghz with Bluetooth Trackball Mouse offers precision, comfort, and versatility that guarantees a smooth and effortless navigation. Conquer your workspace with its advanced tracking and accuracy, all in a comfortable and stylish design - perfect for those who seek the ultimate control and convenience!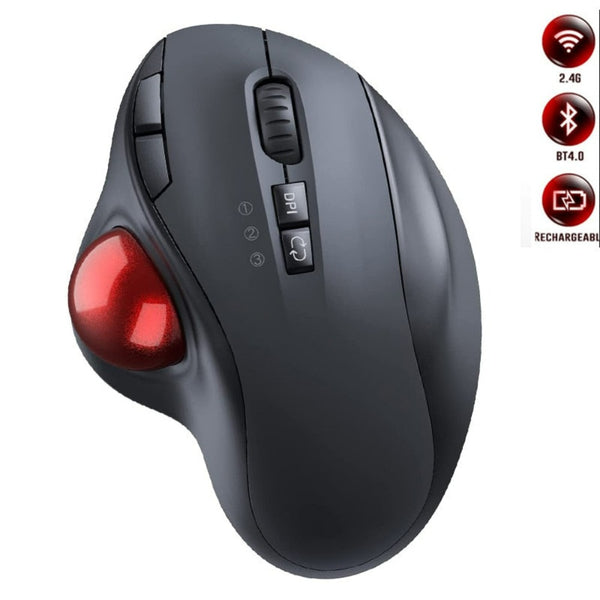 Elevate Your Workflow Efficiency
Say goodbye to the limitations of traditional mice and embrace the Dragon2.4GHz with Bluetooth Trackball Mouse. Designed with advanced technology and ergonomic features, this innovative mouse is a game-changer for professionals and enthusiasts alike. Whether you're a graphic designer, programmer, or simply a tech enthusiast, this mouse will take your productivity to new heights.

Seamless Connectivity and Unparalleled Precision
With both2.4GHz wireless and Bluetooth connectivity options, the Dragon Trackball Mouse ensures a seamless and hassle-free experience. Switch effortlessly between devices and eliminate the clutter of wires on your desk. The trackball design provides unparalleled precision, allowing you to navigate through documents, spreadsheets, and creative projects with utmost accuracy. Say goodbye to wrist strain and enjoy a comfortable and natural hand position while working.


6 Buttons High Performance
Trackball mouse bluetooth is designed with thoughtful ergonomic details and an elegant curved shape. Plus the back and forward button, you can operate easily with higher productivity as well as added comfort. Note: all the buttons are non-programmable.

Upgrade Your Mouse Today and Experience the Dragon Difference!

Remember, with the Dragon2.4GHz with Bluetooth Trackball Mouse, you are not just purchasing a mouse – you are investing in a tool that will enhance your productivity, comfort, and overall computing experience. Shop now and take the first step towards revolutionizing the way you work or play. Unleash your potential with the Dragon Trackball Mouse!
Specifications:
Working Distance: 10m
DPI level: 1000/1600/2400
Click life: more than 3 million times
Lithium battery capacity: 600mA
Size: 5.2 * 3.7 *1.8"
Weight: 135g
Package Includes:
Wireless Bluetooth Trackball Mouse
USB receiver (at the back of the mouse)
USB Type C Charging Cable
User Manual