As a parent, your child's safety is your top priority. That's why we've designed the Adjustable Wide View Rear Seat Car Mirror, a revolutionary accessory that allows you to keep a close eye on your little one while driving. With its wide-angle view, this mirror provides a crystal-clear reflection of your child in the backseat, ensuring you never miss a moment.
Our rear seat car mirror is not only about safety but also about convenience. Thanks to its adjustable feature, you can effortlessly position the mirror to achieve the perfect angle, providing you with an unobstructed view of your child. Whether you have a newborn or a toddler, this mirror is suitable for all ages and can be easily installed in any vehicle.
We understand the importance of durability when it comes to baby accessories. That's why our Adjustable Wide View Rear Seat Car Mirror is crafted with high-quality materials to ensure long-lasting performance. The mirror is shatterproof and designed to withstand everyday wear and tear, giving you peace of mind knowing that your child is safe and secure.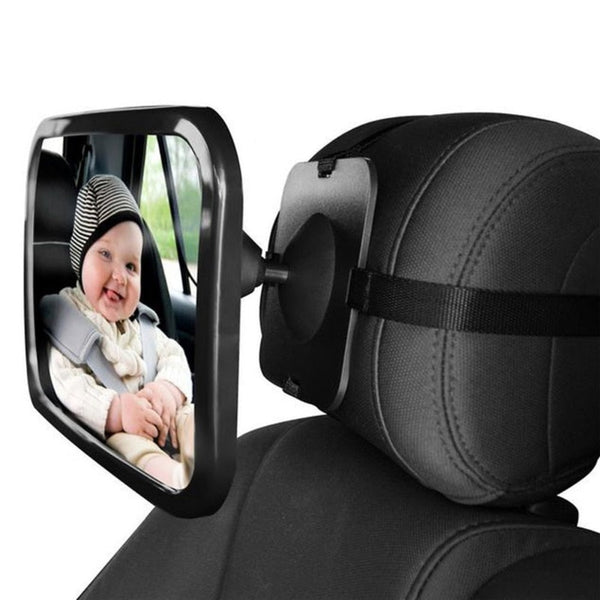 Specifications:
Adjustable Rear Car Seat Mirror
Large Rectangular Shape Allows A Wider Viewing Angle
Allows Diver & Front Seat Passenger to See Safely Into Rear of Car
Headrest Mount - Simply Position the Rear View Mirror Towards the Baby Mirror
Adjustable Angle - Easily Rotates and pivots for a Clear View
Avoids the Driver Having to Turn Around Whilst Driving
Gives No Obstruction to Rear View Visibility
Quick & Easy to Fit & Remove When Required
Adjustable Straps Allow This Mirror To Fit Onto Any Shape Headrest
Mirror Dimensions Approx:
Overall Dimensions Approx:
Length: 11.8"
Width:  7.4"
Depth (At Straight Angle): 3.1"