The 7L Portable Evaporative Air Cooler Fan with Remote Control is a highly efficient and versatile cooling device designed to provide refreshing air in any indoor space. This compact and portable cooler is perfect for use in bedrooms, living rooms, offices, or even outdoor areas like patios and decks.

*Usually Delivered in 3 to 5 business days (USA ONLY)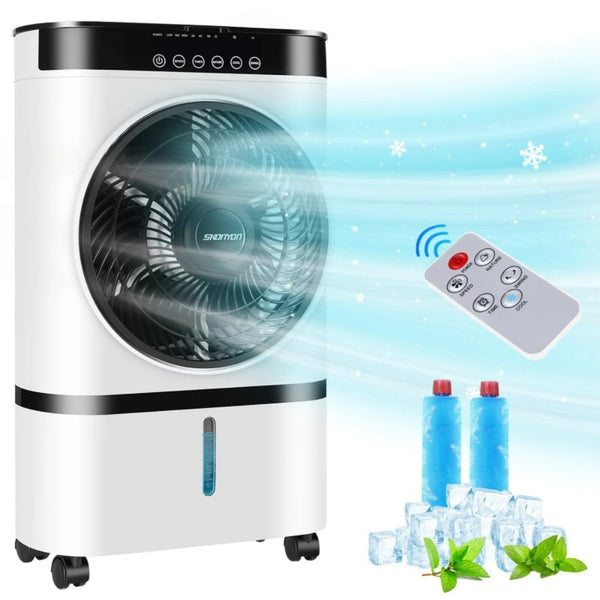 Featuring advanced evaporative cooling technology, this air cooler fan effectively lowers the temperature by utilizing water evaporation. With a generous 7-liter water tank capacity, it can continuously operate for hours without needing frequent refills. Simply fill the tank with cold water or ice cubes, and the cooler will release a stream of cool air, creating a pleasant and comfortable environment.

The user-friendly design includes a convenient remote control that allows you to adjust the settings from a distance. You can effortlessly switch between three fan speeds and choose from two different cooling modes to suit your preferences. Additionally, the oscillation function helps circulate the cool air throughout the room, ensuring even distribution and maximum comfort.

This air cooler fan is also equipped with a built-in timer, enabling you to set the device to automatically turn off after a specific duration, saving energy and providing peace of mind. The LED display panel provides clear visibility of the settings, and the easy-to-use control buttons make operation a breeze.

With its sleek and modern design, this air cooler fan seamlessly blends into any decor. The compact size allows for effortless portability, so you can easily move it from room to room as needed. The sturdy construction ensures durability, while the low noise operation ensures a peaceful and uninterrupted cooling experience.

Upgrade your cooling system with the7L Portable Evaporative Air Cooler Fan with Remote Control and enjoy a refreshing and comfortable atmosphere, even during the hottest days of the year.
Color: Black + White
Material: ABS, PP
Product Dimension: 13.8" x 7.9" x 23.4" (L x W x H)
Net weight: 7.5lbs
Wind Mode: Standard/ Sleep /Natural Wind
Voltage: 120V, 60Hz
Power: 65W
Water tank capacity: 7L
Fan speed: Low/ Medium/ High
Timing Time: 1-12 Hours