Upgrade your home decor with our Modern LED Ceiling Fan. Designed to complement any interior, this ceiling fan seamlessly blends style and functionality. With its sleek and contemporary design, it will effortlessly enhance the aesthetics of your living space. Whether you have a modern, minimalist, or traditional home, this ceiling fan is the perfect addition to create a comfortable and inviting atmosphere.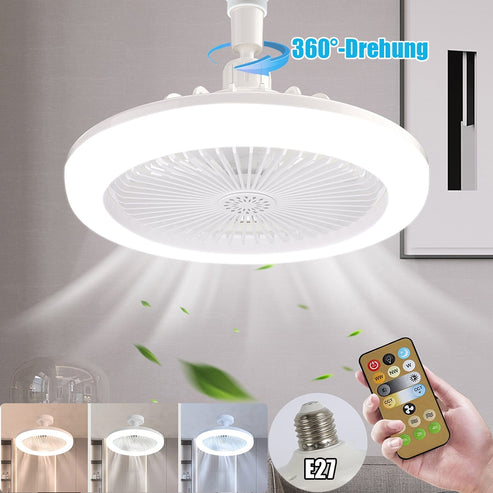 Stay cool and comfortable all year round with our Modern LED Ceiling Fan. Equipped with powerful yet quiet motor technology, it delivers efficient airflow to effectively circulate the air in your room. The integrated LED light provides bright illumination, making it ideal for any room in your home. With the added convenience of a remote control, you can easily adjust the fan speed, light brightness, and even set a timer, all from the comfort of your couch.
Installing our Modern LED Ceiling Fan is a breeze. With clear instructions and all necessary hardware included, you can have it up and running in no time. The fan is designed for easy maintenance, with removable blades and a durable construction that ensures long-lasting performance. Spend less time worrying about upkeep and more time enjoying the comfort and style this ceiling fan brings to your home.
Features:

Upgrade Your Space with Our Fan Lights - Experience all the comfort and convenience of a fan and light in one compact design! Delivering optimal comfort in small spaces during the summer, our fan bulbs boast three varying wind speeds for personalized air circulation. Plus, the 360-degree adjustable lamp head further customizes your desired temperature.

Versatile Ceiling Fan with 3 Modes - Enjoy year-round convenience with our stylish small ceiling fan. Three fan speeds let you control the temperature with ease, while the integrated LED lighting adds atmosphere and ambience! Light and fan are independent, so you can pick the perfect combination for any season.

Adjustable Brightness and Color
Our fan light offers 3 color possibilities (3000K warm light, 4500K natural light, and 6000K white light) and adjustable brightness from 10% to 100%, so you can create your ideal lighting ambiance. Plus, it has a timer function that can be set to turn off after a specified time.

Safe and Durable Design - The thoughtful design of our enclosed ceiling fan keeps you safe from cutting fan blades, while its high-quality acrylic lampshade and ABS blade endure and dazzle. With the energy-saving LED light source, you can enjoy brightness that won't strain your eyes.

Easy DIY Installation - Effortlessly install our fan light yourself, saving time and money without the need for an electrician. Installing is a breeze - just like an E27 lightbulb!

Perfect for Any Small Space - Transform any small room with our modern LED Ceiling Fan with Light and Remote Control! Perfect for bathrooms, farmhouses, bedrooms, kitchens, and more, this energy-saving fan light is sure to brighten up your space with its stylish and affordable design. Plus, you'll cut costs by using the fan and light together!

Specification:
Material: ABS, Acrylic, LED
Voltage: 85-265V
Light Power: 30 W
Fan Power: 4 W
Light Color: 3000K Warm Light, 4500K Natural Light, 6000K White Light
Base Type: E27
Product Diameter: 9.8inch/25cm
Remote Control Battery: CR2025 (not included)
Package includes:
1 x Ceiling Fan Bulb
1 x Remote Control(Battery not included)